Tree Removal in Port St Lucie
Tree Removal
Selecting the best tree service company for tree removal can be overwhelming at times. How do you know if the company you are selecting actually has the requisite experience needed to perform the job?

You can rest assured that when you hire Port St Lucie Tree Trimming you are hiring the most professional and affordable certified arborists and tree trimmers in Florida!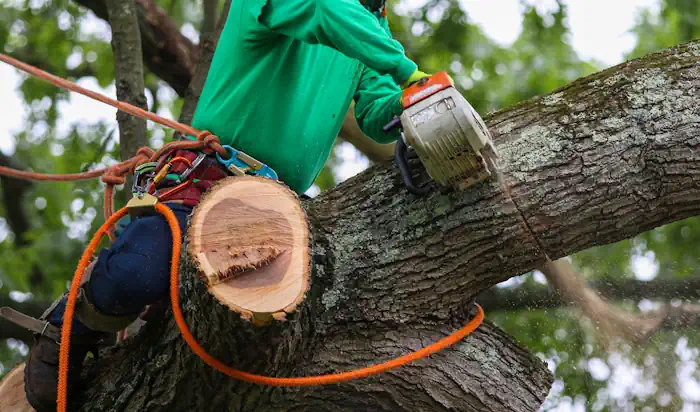 When is Tree Removal Necessary?
While trees add character and charm to any neighborhood, they can also pose a great danger if they are not properly maintained. While PSL Tree Trimming can help prolong the life and safety of your trees by performing regular and preventative storm maintenance through pruning, some trees are just beyond saving and will need to be removed so as to avoid causing major damage to power lines, property and people. Our certified arborists can make sure you are following any and all local regulations before having any tree removed. If you have a tree and aren't sure if it needs pruning or removal, contact us today for a free consultation!
Should I Have My Tree Removed?
A Port St Lucie property owner may want to have tree removal performed for many different reasons. Some reasons include, but are not limited to:

Noticing severe decaying of your trees.
Your trees may have become diseased or damaged.
Your tree is not in an ideal location.
Needing to clear an area for new landscaping concepts.

Damage caused by termites, ants or other insects.
Discovering a tree is on a public easement.

Overgrowth that may be damaging a home or structure.

Diseased trees become structurally weak and incredibly hazardous; these types of trees should be removed immediately. In addition, when roots or trees begin to grow into a building or home, it can cause damage to property. It is very important to have an experienced tree removal service inspect the tree and any nearby structures.

Will I Need a Permit Before Removing a Tree?
The City of Port St. Lucie has adopted requirements to preserve protected trees with a diameter at chest height of twelve (12) inches or greater, and native palms with a clear trunk of (10) ten feet or greater. Permits for the removal or relocation of a protected tree shall be obtained by filing an application with the Planning and Zoning Department. Removal or damage of any protected tree without an approved permit is unlawful and can result in fines or penalties. Please review the requirements of the Landscape Code before preparing your proposal. For information on tree pruning, visit www.FPL.com/trees and obtain your application for tree removal at https://www.cityofpsl.com

Why Use a Professional Tree Removal Service in PSL Florida?
Tree trimming and pruning, as well as full scale tree removal, can be incredibly dangerous when dealing with the larger trees that are common in the greater Port St Lucie area. Failing to follow safety procedures properly or exercise extreme caution can result in direct harm to the individual performing the job, as well as bystanders and personal property. However, this can be easily avoided by working with an affordable and professional tree service company.
Frequently Asked Questions (FAQs) About Tree Removal
Yes, we offer free consultations where we assess the tree removal needs and provide estimates without any cost or obligation.
Absolutely, we are fully licensed and insured to ensure that our customers receive professional and reliable tree removal services.
Our pricing is very competitive, and we strive to offer affordable rates without compromising the quality of our tree removal services.
You can trust us completely. We are known for our honesty and trustworthiness, and we take pride in delivering efficient and reliable tree removal solutions.
While tree removal is one of our main services, we also provide comprehensive tree care solutions that include tree trimming, pruning, stump grinding, and more.