Stump Grinding in Port St Lucie
Stump Removal in Port St Lucie
After having a tree removed you're typically left dealing with an unwanted stump. Trying to facilitate your own stump grinding or stump removal can be a daunting task, but leaving stumps on your property can be dangerous and an unnecessary hazard.

However, you are not alone!

At Port St Lucie Tree Trimming we are happy to give you a free estimate and help you determine the best, and most affordable, course of action and answer any questions you may have!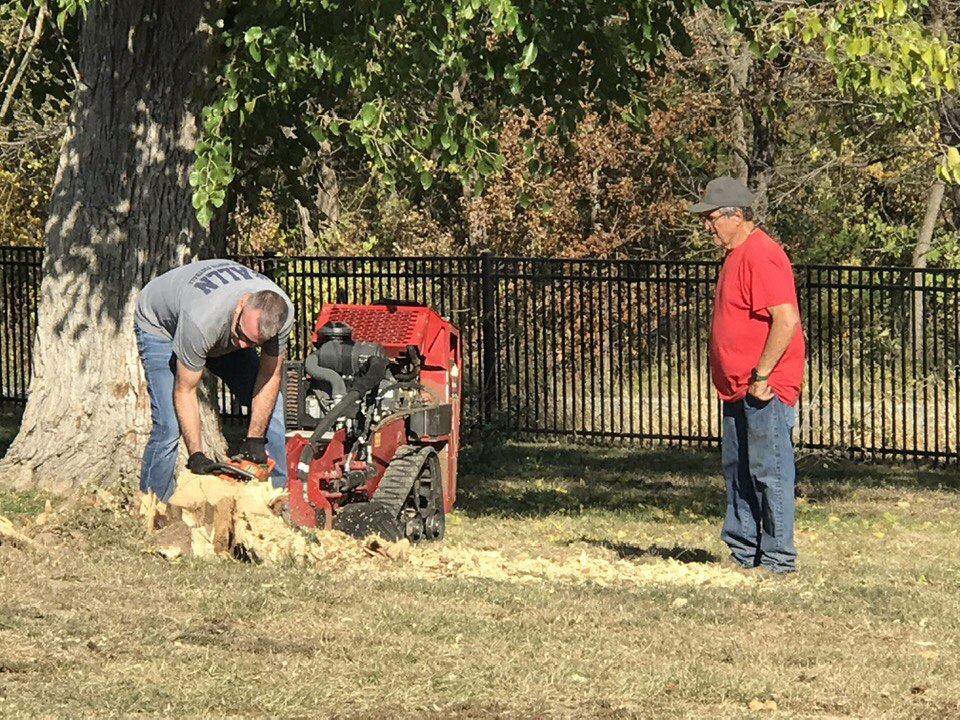 Why You Should Hire a Stump Removal Company

Expertise
Hiring professionals ensures the job is done efficiently and effectively, drawing on our expertise and experience in stump removal.

Time Savings
Professionals can save you time by swiftly and effectively removing the stump, allowing you to focus on other tasks or activities.

Safety
Stump removal can be hazardous without the right tools and knowledge. Hiring professionals minimizes the risk of accidents or injuries during the removal process.

Specialized Equipment
Stump removal often requires specialized equipment such as stump grinders or excavators. We have access to and expertise in using such equipment to efficiently remove the stump.

Complete Removal
Professionals ensure complete removal of the stump, including the roots, which is essential to prevent regrowth and ensure the space is ready for other landscaping or construction.

Clean Up
When a stump is removed, it commonly produces a substantial amount of waste material. Professional cleanup services guarantee a pristine and well-kempt property, ready for further use or landscaping

Hazards
Not only do tree stumps attract ants and bugs, which can create other issues to contend with, but they are trip hazards. Not only are they trip hazards for you, but they create potential trip hazards for others who may be on your property, which creates a liability and can lead to insurance claims.

Space Utilization
Stumps take up a wide footprint, which limits your usable space. Stump removal provides additional space for outdoor activities, like setting up seating areas, playgrounds, or gardens. If you've always wanted a bigger yard, oftentimes, removing a stump can be a much more affordable way to obtain one.

Curb Appeal
When was the last time you were watching HGTV and heard someone say, "You know what would really make this yard pop? A rotting tree stump!" You haven't. Ever. Let's grind that old stump away and make your lawn look great!

Why Have Port St Lucie Tree Trimming Remove Your Stump?
When you hire us you are hiring some of the best certified arborists in Florida, who are incredibly skilled at every facet of stump grinding and removal. Also, because we place such a high value on being a professional and affordable option for all needs, you can be assured you are getting the best price available in your area! See our customer reviews!

Here's a few more reasons why Port St Lucie Tree Trimming is the best option for your stump removal:
We are licensed and insured, reducing any liability or risk in case of damage or accidents during the removal process.
We pride ourselves on our reputation for being honest and trustworthy.
We can remove any size stump from just about anywhere on your property.
We ensure complete removal of the stump, including the roots, which is essential to prevent regrowth and ensure the space is ready for other landscaping or construction.
We clean up after ourselves. Stump removal often generates a considerable amount of debris. We leave your property tidy and ready for its next use.
We are cost effective, considering the equipment, time, and potential additional costs that might arise if you attempted to do it yourself.
You can sit back and relax while we take care of the task efficiently and effectively.
Frequently Asked Questions (FAQs) about Stump Grinding

While having a stump removed in Port St Lucie, FL can look relatively simple, there are many mitigating factors that come into play when determining the best technique needed for each specific stump removal. This is the benefit of hiring a professional tree service company–having our certified arborists analyze the depth of roots and the density of the wood will make for a smooth removal without unnecessarily pulling up more of your lawn than needed.



Customers often ask if smaller stumps will be easier to remove than larger stumps. While it seems like size of the stump would be the biggest determining factor in the difficulty of a job, there are several other factors, as well. For example, the type and density of the wood on a smaller stump could be more difficult to remove than one that is larger, depending on the age of the stump and type of tree.



Our professional tree trimming and certified tree removal team use a commercial stump grinding machine that weighs over 750lbs. While similar versions of these machines are available for rent at local equipment dealers one must take into consideration the liability and risks of using such heavy duty equipment, in addition to the cost. When you hire Port St Lucie Tree Trimming to remove your stump our licensed and insured professionals assume all the risk on your behalf.



Depending on the size of the stump and the depth of the roots you may be left with a void space. Typically, filling in the hole with topsoil and either planting new seed or using sod will give you the desired result in which you seek. By keeping the area watered for 10-14 days your new sod will adequately take root and will eventually blend in with the rest of your lawn.